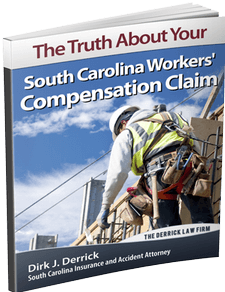 When you are working and are injured on the job, you have every right to file and be awarded workers' compensation benefits. However, it is not always easy to do so between the demands of your employer and the questions of your insurance company. If you are injured, you already have a lot on your mind and probably have a lot of questions about how to get the benefits you need. This book will answer these questions:
What benefits are available to an injured worker?
What mistakes should I avoid when filing my workers' compensation claim?
What should I do after I am injured at work?
How should I follow the restrictions given to me by my doctor?
Will the insurance company give me the rate I deserve?
Will my employer fire me if I file a workers' compensation claim?
What can an attorney do to help my workers' compensation claim?
To receive your free copy of "The Truth About Your South Carolina Workers' Compensation Claim", simply fill out the information below.


Very Important Information: We will not call you, and we will not give your information to anyone. If you have questions after receiving the book you can either e-mail us or call us. Just fill out the information below and submit. You can then immediately read or download the booklet from your email.